SRB.
Анатема која је проглашена од Светог ФИЛАРЕТА исповедника
са Светим Архијерејским Сабором Руске Православне Заграничне Цркве године 1983:
Онима који нападају Цркву Христову учењем да је Христова Црква подељена на такозване "гране" које се разликују по учењу и начину живота, или да Црква не постоји видљивo, већ ће настати у будућности када се све "гране" или секте или иноверја, и чак религије уједине у једно тело; и онима који не разликују свештенство и Свете Тајне Цркве од јеретичких, него кажу да су крштење и причешће јеретика довољни за спасење; стога, онима који свесно имају општење са овим поменутим јеретицима или који заступају, шире, или бране њихову нову јерес екуменизма под изговором братске љубави или тобожњег уједињења раздељених Хришћана: АНАТЕМА!
ENG.
The anathema which was proclaimed by Saint PHILARET the confessor
with Saint Archiepiscopal Council of the Russian Orthodox Church Abroad the year of 1983:
Those who attack the Church of Christ by teaching that Christ's Church is divided into so-called "branches" which differ in doctrine and way of life, or that the Church does not exist visibly, but will be formed in the future when all "branches" or sects or denominations, and even religions will be united into one body; and who do not distinguish the priesthood and Holy Mysteries of the Church from those of the heretics, but say that the baptism and eucharist of heretics is effectual for salvation; therefore, to those who knowingly have communion with these aforementioned heretics or who advocate, disseminate, or defend their new heresy of ecumenism under the pretext of brotherly love or the supposed unification of separated Christians: ANATHEMA!
RUS.
Анафема объявленная Святителем ФИЛАРЕТОМ исповедником
со Святим Архиерейским Собором Русской Православной Церкви Заграницей:
Нападающим на Церковь Христову и учащим, яко Она разделилась на ветви, яже разнятся своим учением и жизнию, и утверждающим Церковь не сущу видимо быти, но от ветвей, расколов и иноверий соединитися имать во едино тело; и тем, иже не различают истинного священства и таинств Церкви от еретических, но учат, яко крещение и евхаристия еретиков довлет для спасения, и тем, иже имут общение с сими еретиками или способствуют им или защищают их новую ересь экуменизма, мняще ю братскую любовь и единение разрозненных христиан быти: АНАФЕМА!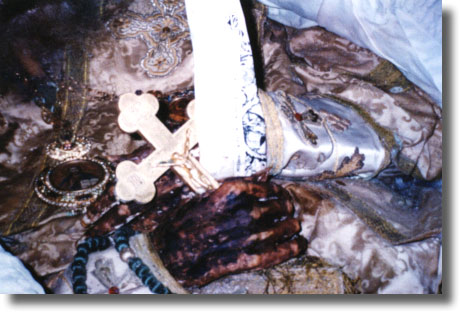 Ваше мишљење о овој анатеми? (теолошка оправданост, валидност, подручје за које важи исл.)